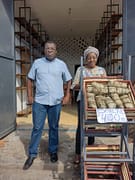 We Start Me Up is in Congo in March, supporting Monielo projects. We still need financial support to cover the expenses of this project. Please click here to donate.
---
WHAT 
PEMO – Economic Project of Monielo. This project is multi-fold, providing housing for a dozen orphans and also funding scholarships for 100 children to attend school from elementary to university level. In addition, this project started a farm in December, 2021, selling the produce and using the money to fund the orphanage and scholarships. 
Now, they're looking to improve the project in multiple ways.
For the store:
Training the store manager in retail management
Implement an Enterprise Resource Planning (ERP) software called Odoo
For the farm:
Supervise and assist in construction of a 1000 square foot warehouse
Training on how to use Odoo, including stock management
Coaching organization
For the orphanage:
Management training for the new officers
WHO
We Start Me Up (WSMUP) – Run by founder and president Jeremie, WSMP is an organization that provides professional training, personal support and assistance to people in less developed countries who would like to create profitable, sustainable and successful small businesses. It was founded by current president Jeremie who has experience as a training director and manager in retail as well as a contractor in architectural design.
MONIELO – A French non-profit organization with projects in Kinshasa, DR Congo supporting child housing and educational opportunities. Run by president Henri Mfumu-Zingi with ground operations in Kinshasa controlled by Noblesse Munseke.
WHEN
In March, 2022 WSMUP president Jeremie will be traveling to Kinshasa to assist in these improvements. If you would like to contribute towards his travel fund, please visit "donate".